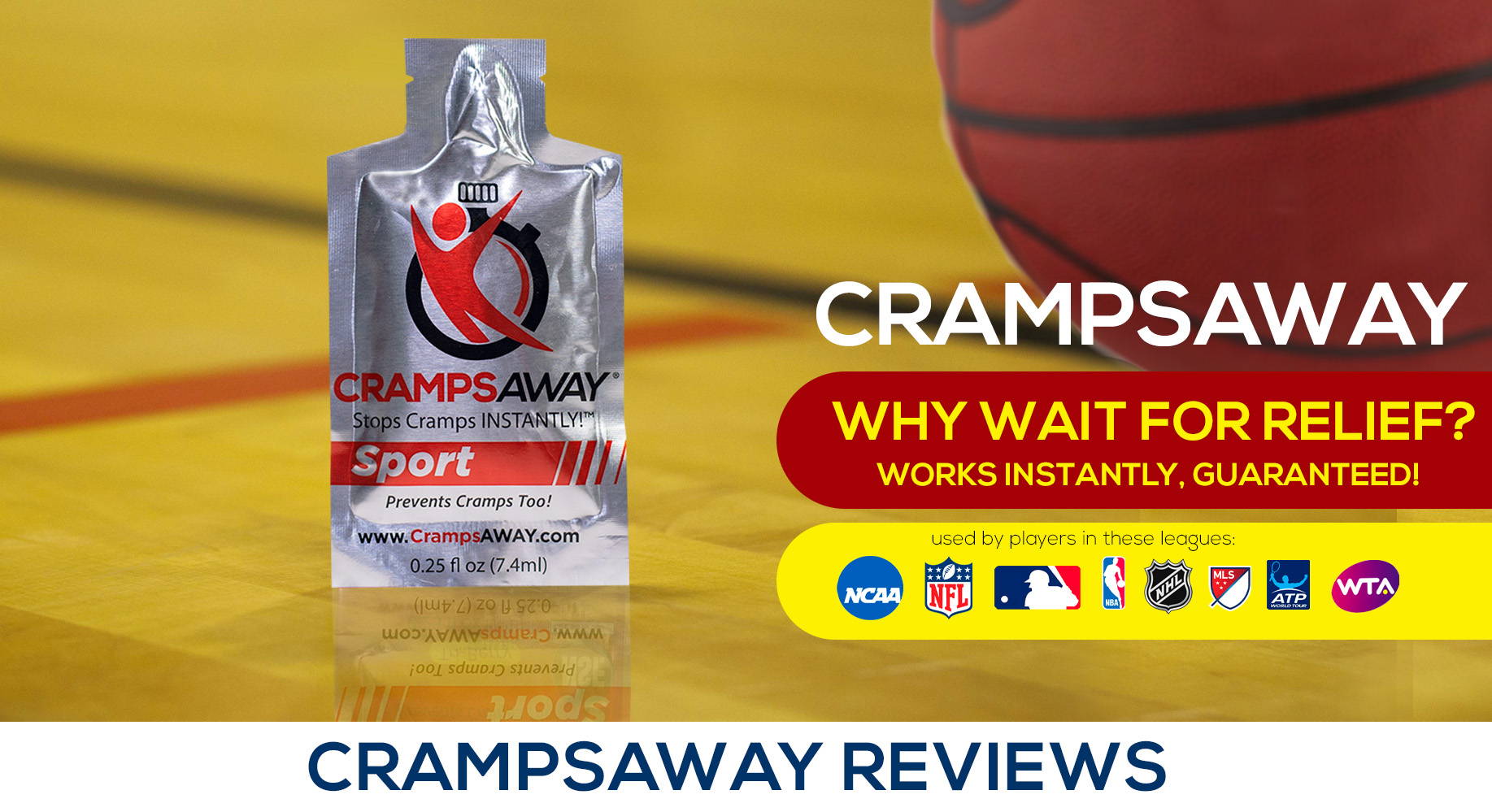 "Hi! I messaged you guys on Instagram yesterday to thank you for your product, as I'm pretty sure it was the reason I worked through from a massive hamstring cramp I battled around mile 23 of my marathon last weekend! Thanks again! SO glad I made the last minute addition of a CrampsAway packet to my fuelbelt!"
Anita K.
"I used the Cramps Away after tennis drills when I felt like I was beginning to get a cramp in my leg. The relief worked within a minute or two. It definitely kept the cramps from coming on! I keep it by my bed too as nighttime seems to bring on leg & toe cramps for me. It relieved the threat of the cramps becoming full blown! I can recommend it!"
Lois S.
"I have used cramps away for cramping issues from playing tournament tennis. They have helped tremendously after exhaustive matches. I keep them with me always, just in case. At a recent tournament, the wife of my tennis playing friend had a leg cramp and was suffering. I gave her one of my CrampsAway packets and within 5 minutes, her cramps went away. She is not an athlete but she now uses CrampsAway. CrampsAway has been a great product for me. I just wish I had known about it much sooner!"
Jess T.
"I was reluctant to try another product since am diabetic and need to watch my sugar intake. But my cramps during my rigourous marathon matches was getting better off me. So i decided it to CrampsAway a try. It was pure magic, i took one during laf way during my match which was 1 hour after the start. I felt like i was cramping, within minutes of me taking this it vanished and i was able to complete my match. I was very glad to have tried CrampsAway and finally something which could fix my cramps immediately."
Arun P.




"Cramps Away WORKS!! Both my husband and I use the Sport before races and have experienced tremendous benefit. I no longer have burning calves during the first mile of a race and my husband doesn't cramp after a race. We're sold!"
Susan M.
"I keep the Sport version handy in my car, because with a manual shift I can get cramps if I'm stuck in traffic for a long time. I have enough experience with cramps that I know there are 3 causes: if it's dehydration, I have to drink water; if it's electrolytes, I have to have some salt; but the most common kind I get, neurological, are gone with CrampsAway."
Dorelle R.
I am a former NCAA D1 athlete who battled cramps over the course of my entire amateur, brief professional, and recreational careers. Most recently, I have battled "night cramps" that jolt me awake and out of bed. I tried Cramps Away with skepticism, after seeing an ad in a tennis magazine. In the throes of a night cramp, I broke the seal, squeezed the tube, and a miracle happened - instant relief! The cramp immediately subsided, and I made it peacefully through the remainder of the night. I am now ready to restock, after a successful pilot."
Brad V.
"I am a 67 year old dedicated recreational tennis player. Weather permitting, and being retired, I play 3-5 times a week. For many years I used an anti-leg cramp "elixir" with great results. But, the downside is it tastes horrible…and I mean HORRIBLE. When I saw your advertisement in the July/August edition of Atlanta's ALTA Net News, I thought I'd give it a try. Wow…welcome relief and it didn't gag me when I took it. I even recommended it to my tennis coach (yeah, us old guys are still trying to get better at tennis).
CrampsAWAY works for me. Will it work for everyone? Don't know. But, in my world, I'm #1 and it works for me."
Mike M.