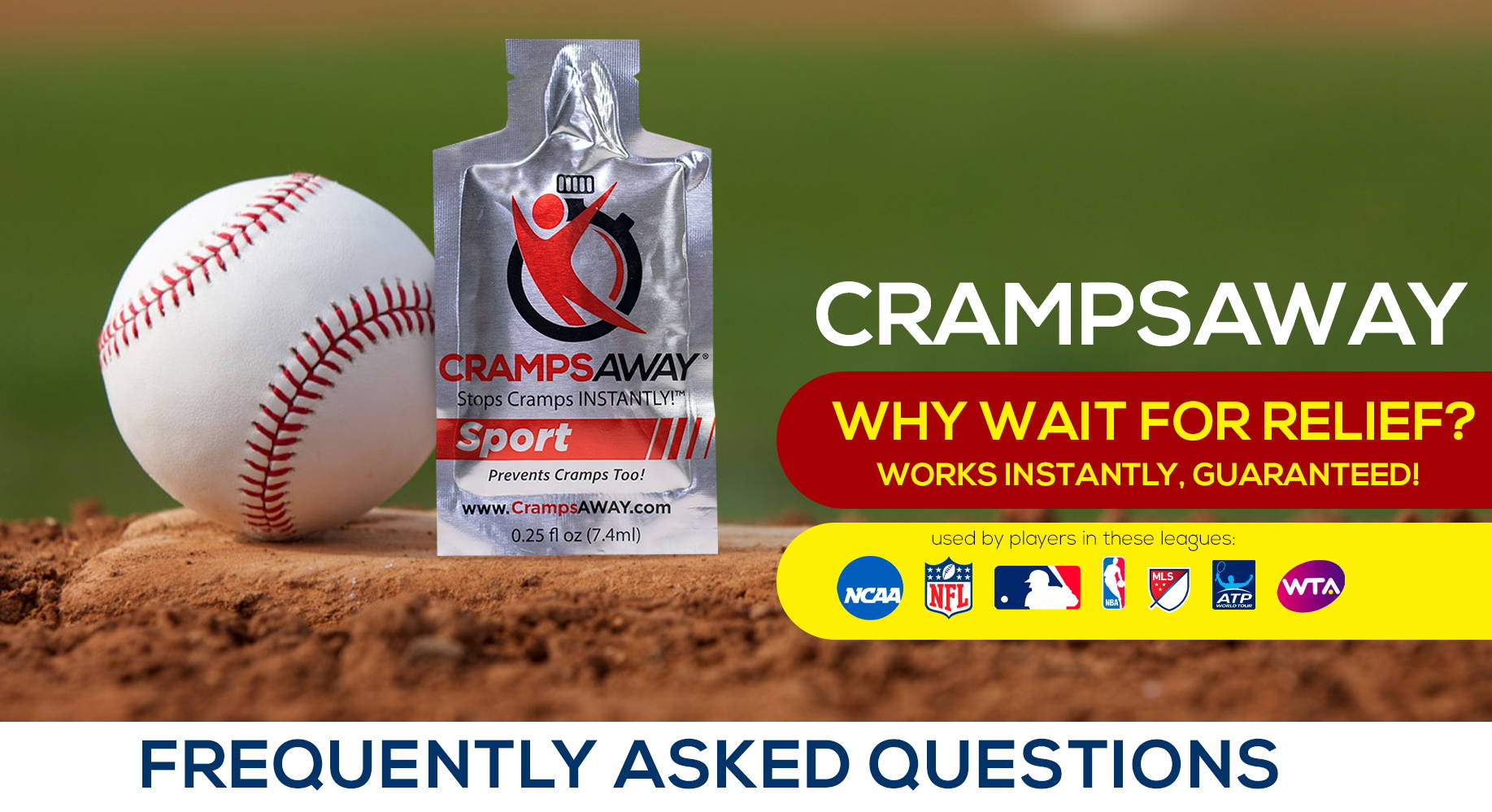 What is CrampsAWAY and how is it different?
CrampsAWAY is an all-natural, food-grade liquid supplement that instantly stops cramps. It is not a medicine. Unlike other cramp 'remedies', you do not have to wait for it to work; CrampsAWAY acts immediately. It comes in convenient single-serve packets, perfect for anyone on-the-go. CrampsAWAY also provides a restful night's sleep by stopping and preventing night cramps. Watch it in action here.
Is CrampsAWAY safe?
Yes! As we like to say, CrampsAWAY is probably safer for you than what you ate for your last meal. CrampsAWAY contains all-natural, non-toxic ingredients, NO pharmaceuticals, and doesn't need a doctor's prescription. CrampsAWAY is completely safe and free of any banned substances.
How does CrampsAWAY work?
It's simple, fast and easy: Just open a packet of CrampsAWAY, swish it in your mouth for approximately 30-60 seconds, then swallow it. Instantly, CrampsAWAY's proprietary, patented solution stimulates the neuro-receptors on the tongue and in the mouth to instantly inhibit the nerves that are causing muscle cramps. Additional neuro-receptors in the intestinal tract are further stimulated by swallowing CrampsAWAY, extending its effects for up to two hours. So by targeting the actual cause of cramping, instead of using fluids and electrolyte replacement products in an attempt to relieve it, CrampsAWAY offers an entirely new solution for cramp relief. Watch it in action here.
What REALLY causes muscle cramps?
The science behind cramping isn't entirely conclusive. In the past, the medical and sports communities believed that exercise-associated muscle cramps were a result of dehydration and/or electrolyte depletion. But despite the fact that most (if not all) elite athletes are mindful of taking in proper amounts of fluids and electrolytes before and during competitions, many still experience debilitating cramps. After several years of research, CrampsAWAY's team believes that cramps actually occur due to an imbalance between neuronal firing and inhibition, which leaves muscles in a contracted, or "cramped" position.​ Listen to a doctor explain this further.
Are any elite athletes using CrampsAWAY?
Absolutely! CrampsAWAY has become the go-to cramp solution for many of the best athletes in the world; including pro sports teams in the NCAA, NFL, NBA, MLB and MLS. Also, many current and former top ATP tennis players use CrampsAWAY as a competitive advantage, including John Isner, Jack Sock and James Blake. CrampsAWAY is also taking the cycling, running, and swimming endurance landscape by storm. So, whether you're a college, professional, or weekend warrior; CrampsAWAY allows you to achieve your full potential! Watch a former tennis player and Olympian talk about CrampsAWAY.
What are the ingredients in CrampsAWAY?
The ingredients in CrampsAWAY Sport are: Organic Agave Nectar, Purified Water, Proprietary CrampsAWAY blend (Natural Food Acids), Ionic Trace Minerals, Natural Orange Flavor, Natural Flavor, and Potassium Sorbate.
The ingredients in CrampsAWAY Pro are: Organic Agave Nectar, Purified Water, Proprietary CrampsAWAY blend (Natural Food Acids), Ionic Trace Minerals, Natural Triberry Flavor, Natural Flavor, and Potassium Sorbate.
How often can I use CrampsAWAY?
CrampsAWAY may be used as often as needed to relieve exercise-associated muscle cramps. In most cases, its effects last anywhere from 2-12 hours. To prevent cramping prior to or during exercise or athletic competition, CrampsAWAY may be safely taken every 1 to 4 hours.
How can I take CrampsAWAY to PREVENT cramps?
While CrampsAWAY can be taken at the first hint of a cramp to stop and prevent cramps, many top athletes take CrampsAWAY preventatively. This is done by swishing the contents of a CrampsAWAY packet in your mouth for 30-60 seconds, and then swallowing it; prior to your event. The CrampsAWAY preventative effect will last 2 to 4 hours, depending on the physical demands of your event and the weather conditions. For basketball, football, and soccer players; taking CrampsAWAY before your game and at half-time should allow you to go all-out without fear of cramps during your game and any overtime periods. For endurance athletes, taking CrampsAWAY before your event and about every 1.5 hours should keep you performing at your peak and on the path to personal victory!
How many calories are in CrampsAWAY?​
One 1/4oz. packet of CrampsAWAY (Sport or Pro) has 22 calories.